Aerial Arts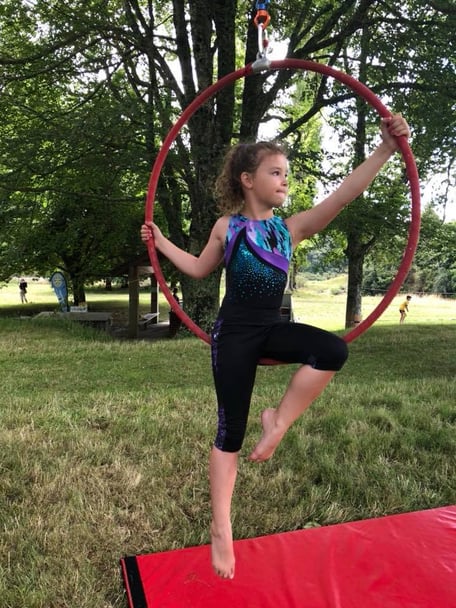 Utilising our Aerial hoops and silks, the gymnasts learn simple aerial skills that are then connected with gymnastics and dance to create a short routine to music.
Term Fee (current for Term 4 2020)
$117 60 minute class
You can often find us at the Seaside Markets with an aerial hoop set up for members of the public to have a go (gold coin donation gratefully accepted).
General Class Information
We run in conjunction with the school term and will run for a maximum of nine weeks. There are no make up classes if your child is unable to attend a class.
Please show your support and lend our volunteer coaches a hand during your childs class.
Pre-enrollment for existing members each term is neccessary to ensure you hold a space for your child.
Please ensure siblings do not interfere with classes and are kept off equipment.
Gymnasts should wear clothing suitable for active participation, leotard, t-shirt, singlet top with elastic waist banded leggings or tights (we do recommend 3/4 or full length leggings/tights for use with the aerial hoop). Please ensure no zips, buttons or other hard plastic or metal embellishments are on the clothing.
Hair needs to be tied off the face.
Aerial Arts Terms 2019
Term 1 - Monday 11th February - Friday 12th April (Week 10 - due to Waitangi Day 6th February)
Term 2 - Monday 29th April - Friday 28th June (Week 9)
Term 3 - Monday 22nd July - Friday 20th September (Week 9)
Term 4 - Monday 14th October - Friday 13th December (Week 9)
In case of a Public Holiday falling during our nine week term a make up class will be held during week 10 for any affected classes.