Tumble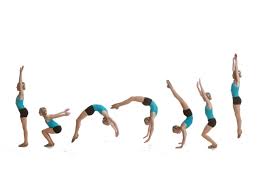 Our Tumble class is for those gymnasts who have already achieved a strong cartwheel and can hold a handstand. We do recommend gymnasts start in our Gym for All classes to learn the terminology, basic shapes and skills first.
In the intermediate class they will be looking at walkovers, roundoffs, handsprings and flips with the aim to connect a series of skills that can be used in our Taranaki GymSports Tri Series events.
In 2019 we have introduced an advanced class that will be looking to compete at various events in the North Island. This class is by invitation only and gymnasts must have a good roundoff and handspring.
Term Fee (current as at Term 2 2019)
$117 - 60 minute class
$162 - 90 minute class
Gymnastica Gym Club are proud to be involved with the Taranaki GymSports Tri Series (a series of three fun competitions throughout Taranaki) giving your gymnast an opportunity to learn mini routines and compete in a fun event.
General Class Information
We run in conjunction with the school term and will run for a maximum of nine weeks. There are no make up classes if your child is unable to attend a class.
Please show your support and lend our volunteer coaches a hand during your childs class.
Pre-enrollment for existing members each term is neccessary to ensure you hold a space for your child.
Please ensure siblings do not interfere with classes and are kept off equipment.
Gymnasts should wear clothing suitable for active participation, leotard, t-shirt, singlet top with elastic waist banded leggings or tights. Please ensure no zips, buttons or other hard plastic or metal embellishments are on the clothing.
Jewelery is to be removed prior to class (small stud earrings are acceptable however please no sleepers).
Hair needs to be tied off the face.
Gym For All Terms 2019
Term 1 - Monday 4th February - Friday 5th April (Week 9)
Term 2 - Monday 29th April - Friday 28th June (Week 9)
Term 3 - Monday 22nd July - Friday 20th September (Week 9)
Term 4 - Monday 14th October - Friday 13th December (Week 9)
In case of a Public Holiday falling during our nine week term a make up class will be held during week 10 for any affected classes.